PM Spiking for
PM CEMS Calibration
---
Particulate Matter (PM) Spiking for PM CEMS Calibration
B3 Systems has a US Patent [US 6,694,796] for a method using direct injection or spiking of PM to calibrate PM monitoring devices.

Calibrating a Particulate Matter Continuous Emission Monitoring System (PM CEMS) can be an expensive and disrupting process. Since most facilities operate well below their permit limit for particulate emissions, they need a method for increasing particulate concentrations while calibrating their PM CEMS. In the past this was done by installing a bypass duct or sabotaging particulate control equipment.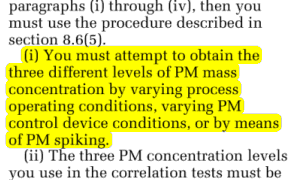 In section 8.6(4)(i) of EPA's Performance Specification 11, PM spiking is mentioned as a method for providing a range of concentrations:

B3 Systems developed a method for introducing measured amounts of your native PM into the off-gas stream to increase the PM concentration without affecting your control equipment.

Benefits of using PM Spiking
On/Off Switch - The PM Spiking system has an On/Off switch if there is ever an issue or question about the PM emissions.
On/Off Switch - The PM Spiking system has an On/Off switch if there is ever an issue or question about the PM emissions.
Efficiency - Be more efficient with on-site testing time to get the data points you really need by being able to make quick and easy set-point adjustments to the PM spiking rate and therefore changing the PM concentration in the stack.
Maximize calibration curve data - By extending the data set used in your calibration curve you also improve the correlation coefficient. This is more controlled using PM Spiking. PM Spiking allows you the ability to "reach" for the high points and see how the system responds within minutes versus hours.
Reduce retesting risk - By extending your curve and getting a higher analyzer response, it dramatically reduces the chance of exceeding the 125% limits that require retesting.
Control and Repeatability - The PM Spiking System ustilizes a PID control logic to insure that the same mass of PM is being injected for each condition.
Help your RCA in 3 years - If you are not planning for it now, then you should be. The highest analyzer response on your iniital curve defines what data points are valid in the RCA.

How It Works
An automatically controlled loss-in-weight solids feeder produces a consistent mass flow rate of particulate matter. A solids eductor is used to fluidize the solids into a stream of heated air before being injected just downstream of all air pollution control devices.

Use Your Own Ash
The emissivity and particle size of particulate matter affect the response of optical PM CEMS. The characteristics of the particulate matter vary from site to site. Using the ash collected from your ESP or baghouse, we can introduce known quantities of particulate matter and observe the PM CEMS response. The patented process developed by B3 Systems ensures adequate dispersion and no particle size segregation during handling.

Accurate & Precise Mass Flow Rates
B3 Systems uses a loss-in-weight feeder specially designed to produce precise mass flow rates (within 2%). The mass flow rate is constantly monitored and controlled to produce consistent flow rates during each test run. The mass flow set point is easily changeable over a wide range of flow rates to produce calibration points quickly and easily at any desired concentration. The scale and mass flow rates are verified before and after each test using NIST-traceable weights.

A Range of Correlation Options
Since the quantity of the particulate spike is known and NIST-traceable, it can be used with the method of standard additions to create a calibration curve without the use of manual sampling. If required by regulatory agencies, the spiked runs can be correlated with EPA Method 5. The tracer gas method, a flow CEMS, or EPA manual velocity measurements can be used to convert the results to a concentration or mass flow rate basis for comparison.


Want to know more... Give us a call!